Associations/Memberships
Promoting Vegetarian/Vegan Awareness and Action
VEGAN OUTREACH

"Ultimately, living with compassion means striving to maximize the good we accomplish, not following a set of rules or trying to fit a certain label. From eating less meat to being vegan, our actions are only a means to an end: decreasing suffering." Hard workers involved in education, especially to colleges.

FRIENDS OF ANIMALS

Pure-thinking advocacy of the right of animals to be left alone. No animal welfare, rather animal truth and undiluted ethics.
ANIMAL RIGHTS: THE ABOLITIONIST APPROACH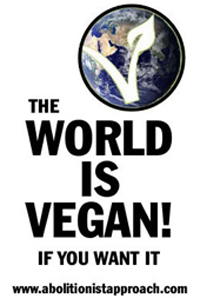 The mission of this website is to provide a clear statement of an approach to animal rights that (1) requires the abolition of animal exploitation and rejects the regulation of animal exploitation; (2) is based only on animal sentience and no other cognitive characteristic, (3) regards veganism as the moral baseline of the animal rights position; and (4) rejects allviolence and promotes activism in the form of creative, non-violent vegan education.
FARMUSA

"A 501(c)(3) national, tax-exempt, educational organization advocating a plant-based diet and humane treatment of farmed animals through a variety of grassroots programs. We operate from the nation's capital through a network of volunteer activists in all 50 states and two dozen other countries."
SEA SHEPHERD CONSERVATION SOCIETY

"Sea Shepherd's mission is to conserve and protect the world's marine wilderness eco-systems and marine wildlife species." Captain Paul Watson leaves no room for inactivity. One of the great founders of our movement.
PETA

Many get offended at some of their in-your-face actions, but many also learn compassionate facts on behalf of animals.
HUMANE SOCIETY OF THE U.S.

Massive animal welfare resource site from legislation to international animal concerns.


UNITED POULTRY CONCERNS

Hands-down industry leader on the facts of the immense cruelty to chickens and all fowl.


THE GREAT APE PROJECT

"The Great Ape Project seeks to end the unconscionable treatment of our nearest living relatives by obtaining for non-human great apes the fundamental moral and legal protections of the right to life, the freedom from arbitrary deprivation of liberty, and protection from torture."


THE NATIONAL ANTI-VIVISECTION SOCIETY

"The National Anti-Vivisection Society is dedicated to abolishing the exploitation of animals used in research, education and product testing."



AMERICAN ANTI-VIVISECTION SOCIETY

"The mission of the American Anti-Vivisection Society is to unequivocally oppose and work to end experimentation on animals and to oppose all other forms of cruelty to animals."


PAWS - PEOPLE HELPING ANIMALS

Family friendly site seeking action and offering help for all animals.

INFURMATION

The Fur Free Alliance (FFA) is an international coalition of over 35 animal protection organizations working to bring an end to the exploitation and killing of animals for their fur.



WORLD ANIMAL NET

"World Animal Net is the world's largest network of animal protection societies with consultative status at the UN. Working to improve the status and welfare of animals with over 3,000 affiliates in more than 100 countries."

WWF

Formerly the World Wildlife Fund. Global environmental conservation organization.


ASPCA

140 year old stalwart association with emphasis on domestic companions.


COMPASSION OVER KILLING

"Working to end animal abuse since 1995, COK focuses on cruelty to animals in agriculture and promotes vegetarian eating as a way to build a kinder world for all of us, both human and nonhuman." Excellent site. Campaigns, investigations, magazine, recipes and more.
PHYSICIAN'S COMMITTEE FOR RESPONSIBLE MEDICINE

The leading nonprofit organization that promotes preventive medicine, conducts clinical research, and encourages higher standards for ethics and effectiveness in research. Medical facts without commercial bias.
COMPASSIONATE ACTION FOR ANIMALS

"Creating respect and justice for animals in our world" Very useful grassroots site which contains many sound advices and current actions to help all animals.
MADCOWBOY

Plain truth from the cattle rancher who will not eat meat.

GO VEGAN RADIO

"GO VEGAN with BOB LINDEN"...The Planet's First and Only Commercial Vegan Radio Show!


ANIMALS VOICE

"The Animals Voice is an award-winning, independent, networking source of timely information, news, campaigns, boycotts, action alerts, and thought-provoking editorial and compelling photography about animal rights and its defenders."

VIVA USA

"Viva! is a dynamic organization campaigning on behalf of animals killed for food. We do investigations of factory farms and then produce campaign materials for students and activists, helping people change to a veggie diet!"


VEGGUIDE

"The Ultimate Restaurant and Shopping Guide for Vegetarians and Vegans" Users can review and add restaurants in our own home towns! Awesome site.

VEGWEB

Veggie product reviews, veg recipes and more.

VEGSOURCE

Heavyweight leader in discussion boards, newsletters, recipes, Expo organization, and many industry-wide connections.

INTERNATIONAL VEGETARIAN UNION

"Promoting Vegetarianism Worldwide Since 1908"

AMERICAN VEGAN SOCIETY

"The American Vegan Society is a nonprofit educational membership organization teaching a compassionate way of living that includes veganism.
Together we explore and apply compassionate living concepts, and reflect on them and ourselves. We learn how to revere the Earth, how to save the animals, and how to care for ourselves."

VEGETARIAN RESOURCE GROUP

"The Vegetarian Resource Group (VRG) is a non-profit organization dedicated to educating the public on vegetarianism and the interrelated issues of health, nutrition, ecology, ethics, and world hunger. In addition to publishing the Vegetarian Journal, VRG produces and sells cookbooks, other books, pamphlets, and article reprints."

TOP OF PAGE
Law-related Animal Rights Sites

ANIMAL LEGAL DEFENSE FUND

"For more than a quarter-century, the Animal Legal Defense Fund has been fighting to protect the lives and advance the interests of animals through the legal system." Clean and resourceful website.


IN DEFENSE OF ANIMALS

"Working to protect the rights, welfare and habitats of animals." This is an action-oriented group hitting mainstream projects and campaigns.


CENTER FOR ANIMAL LAW STUDIES
"The Nation's First Law Review Devoted Exclusively to Animal Issues" Lewis & Clark Law School, Portland, OR

ANIMAL LEGAL AND HISTORICAL CENTER

"There are presently over 700 full text cases (US, Historical and UK) and 975 U.S. statutes fully available on the site, with Michigan and California being very comprehensive. More importantly, we have over 38 topics that give the viewer directions and comprehensive explanations on some of the more interesting issues of the animal area."


ANIMAL WELFARE INFORMATION CENTER

U S Dept of Agriculture National Agricultural Library - Providing information for improved animal care and use in research, teaching, and testing.
DAWN ANIMAL WORLD NEWS WATCH

"Watching Animal Issues in the Media" One can subscribe to receive daily email media news alerts on animal issues. Excellent, brief and informative.



ANIMAL CONCERNS

" The Animal Concerns Community is a project of the EnviroLink Network, a non-profit organization which has been providing access to thousands of online environmental and animal rights/welfare resources since 1991. This community serves as a clearinghouse for information on the Internet related to animal rights and welfare."

ANIMAL PEOPLE NEWS

"ANIMAL PEOPLE is the leading independent newspaper providing original investigative coverage of animal protection worldwide. Founded in 1992, ANIMAL PEOPLE has no alignment or affiliation with any other entity." A nice newspaper to receive at home and take your time savoring the revealing worldwide articles.
FARM SANCTUARY

"Farm Sanctuary was founded in 1986 to combat the abuses of industrialized farming and to encourage a new awareness and understanding about "farm animals." At Farm Sanctuary, these animals are our friends, not our food." Dedicated and involved group of people.



THE ELEPHANT SANCTUARY
.
"A natural-habitat refuge where sick, old and needy elephants can once again walk the earth in peace and dignity." Famous sanctuary in southern Tennessee.


ANIMAL PLACE

"Animal Place, founded in 1989, is a nonprofit sanctuary for abused and discarded farmed animals. Rescued individuals and indigenous wildlife share 60 acres of forest, meadow, pasture, hills and small lake." Friendly and functional California sanctuary.


THE INTELLIGENT OPTIMIST
"Stories of countless initiatives being launched around the globe by people devoted to justice, respect and equality. Stories that bridge the gap between thinking and doing, between rage and hope, and the painful gap between the rich and poor – and thus build peace and sustainability." Beautiful and inspiring magazine to read cover-to-cover.

UTNE MAGAZINE

"Founded in 1984 by Eric Utne, UTNE MAGAZINE reprints the best articles from over 2,000 alternative media sources bringing you the latest ideas and trends emerging in our culture.."


VEGNEWS MAGAZINE

"Beginning publication in 2000 this magazine focuses on a vegetarian lifestyle and offers its more than 150,000 readers up-to-date information on living a compassionate and healthy lifestyle."

VEGETARIAN TIMES MAGAZINE

"Vegetarian Times delivers all the information readers need to live a more healthful lifestyle. Every month the magazine provides a variety of delicious meat-free recipes as well as cooking tips and entertaining suggestions. Also found in its pages is comprehensive coverage of the latest research on alternative health, fitness, nutrition and supplements."


HERBIVORE MAGAZINE

"Herbivore Magazine started in the Spring of 2003 with the idea that there was exciting, vital culture coming out of the vegetarian community. Our goal is to map it with humor, sensitivity and passion."
STOP ANIMAL EXPLOITATION NOW!

"Exposing the truth to wipe out animal experimentation" This is a portion of the fine all-creatures.org site.
THE TOM REGAN ANIMAL RIGHTS ARCHIVE

"The North Carolina State University library is providing this site to organize, preserve, and provide access to the Tom Regan Collection, which consists of Regan's personal papers and books documenting his key role in the animal rights movement." Essays and manuscripts from all over the world.

SHOWING ANIMALS RESPECT AND KINDNESS -SHARK

"SHARK is dedicated to ending the abuse and suffering of animals everywhere!" Video footage, media trucks and ultralite aircraft are tools used by this dedicated activist.

CARE2.COM

Large web-activist site on many important concerns. Petitions, e-cards, news, shopping and more.


GRACE FACTORY FARM PROJECT

"Established to eliminate factory farming in favor of a sustainable food production system which is healthful and humane, economically viable and ecologically sound. Part of a clean network system of environmentally oriented projects."


PETE SINGER

"My work is based on the assumption that clarity and consistency in our moral thinking is likely, in the long run, to lead us to hold better views on ethical issues." Solid essays from a bastion of the early animal rights movement.


FIREPAW

The Foundation for Interdisciplinary Research and Education Promoting Animal Welfare. Sharp site!

BITE BACK

Around the world news stories of hardcore 'direct action' on behalf of animal rights.

ADAPTT

"ADAPTT's goals are to assist in the abolition of animal use in medical research, product testing, circuses, rodeos and other forms of entertainment. We are uncompromisingly opposed to the bloodsport of hunting and the wearing of all animal skins, including fur, leather, wool, silk and down. Moreover, ADAPTT is an ethical vegan organization which means we unequivocally oppose the meat, dairy, egg and honey industries."

HOUSE RABBIT SOCIETY

"An international nonprofit organization that rescues rabbits and educates the public on rabbit care and behavior." You name it about rabbits, and this site has it.

PROJECT VOTE SMART

"As a national library of factual information, Project Vote Smart covers your candidates and elected officials in five basic categories: biographical information, issue positions, voting records, campaign finances and interest group ratings." Find your representatives/candidates and know your political options.
ALL CREATURES.ORG

"We are dedicated to cruelty-free living through a vegetarian - vegan lifestyle according to Judeo-Christian ethics. Unconditional love and compassion is the foundation of our peaceful means of accomplishing this goal for all of God's creatures, whether human or otherwise." Very thorough site containing many resources.


RELIGIOUS THOUGHT ABOUT ANIMALS

Nice listing site showing articles containing discussion of animals and Hinduism, Buddhism, Jainism, Christianity, Judaism.


Buddhist Resources on Vegetarianism and Animal Welfare
San Francisco State University Philosophy Department's compilation of Buddhist entreaties.


CHRISTIAN VEGETARIAN ASSOCIATION

"The Christian Vegetarian Association (CVA) is an international, non-denominational ministry of believers dedicated to respectfully promoting healthy, Christ-centered and God-honoring living among Christians."

VEGGIE DHARMA/SHABKAR

Beautifully visual and informative site for Buddhist vegetarians.


JESUSVEG.COM

"Jesus' message is one of love and compassion, yet there is nothing loving or compassionate about factory farms and slaughterhouses, where billions of animals live miserable lives and die violent, bloody deaths."
ANIMAL SENTIENCE

"Devoted to the subject of animal conscious thought and feelings."

TOP OF PAGE
INTERNATIONAL INSTITUTE FOR HUMANE EDUCATION

"Humane education examines the challenges facing our planet, from human oppression and animal exploitation to materialism and ecological degradation. Humane educators inspire people to live examined, intentional lives so that what they do today helps the planet, animals and all people tomorrow."

COMPASSIONATE ACTION INSTITUTE

"Our mission is to promote humane education in order to increase awareness and to encourage compassionate action in order to relieve animal suffering." Good site on urban wildlife.

ANIMALS AND SOCIETY INSTITUTE

"The Animals and Society Institute is a nonprofit, independent research and educational organization that advances the status of animals in public policy, and promotes the study of human-animal relationships. The ASI seeks to advance institutional change for animals by helping to establish the moral and legal rights fundamental to a just, compassionate and peaceful society."

TOP OF PAGE

THE FARM

"Their parents left San Francisco 30 years ago to build a utopia in rural Tennessee. Now some of the products of that grand experiment -- their children -- have come back." Stephen Gaskin's commune grown up.
Commercial Sites of Animal-friendly Products
MOOSHOES

"There is a lot of news in the world of Vegan shoes. We've got new women's shoes, men's shoes, casual shoes, and even some formal shoes."

VEGAN ESSENTIALS

Multiple categories of products for the compassionate consumer.

ANIMAL RIGHTS STUFF

"One of the most important things that animal rights supporters can do is to show others how they, too, can easily help animals -- whether it's by sharing vegan food with your coworkers, or helping a neighbor select products that aren't tested on animals, or just starting a dialogue with someone who had never thought about animal suffering before."

VEGGUIDE

"The ultimate restaurant and shopping guide for vegetarians and vegans."

PANGEA

"When we opened our doors in 1995, we were the very first company to offer a comprehensive selection of high-quality, completely cruelty-free vegan (non-animal-derived) products."





PLANET SHOES
"At Earth Vegan Footwear, we respect your ethics, ideals and commitment to the natural world. That's why we offer you a complete collection of footwear that unites the most advanced materials and technology with appealing aesthetics."